The Istrian Short-Haired Hound temperament can be gentle and loyal. However, they don't make the best household companions. This breed is an excellent hunter who is rarely kept as a pet.
This dog is best suited to hunting families.
There seems to be general disagreement about certain Istrian Short-Haired Hound traits. It is possible that there may be more individual difference than with many other breeds.
Istrian Short-Haired Hound Temperament
1. Intelligent
Intelligence is a hallmark of the Istrian Short-Haired Hound's temperament. Like most hunting dogs, she is bright and learns quickly.
2. Independent
However, also like most hunting breeds, she has a mind of her own. She is fairly easily trained. However, she's unlikely to obey blindly, especially when following a scent.
3. Docile
Though she's lively and enthusiastic in the field, the Istrian Short-Haired Hound temperament is different indoors. She's calm and gentle and content to relax.
Some say this breed is also good with children, but others disagree. Again, this appears to be an individual difference. There is no evidence of aggression toward children.
The key here may be good socialization, but again, some individuals will do better than others.
4. Loyalty
One of the nicest things about the Istrian Short-Haired Hound temperament is its devotion to its owner. However, the strong bond this dog forms means she doesn't like to be left alone for long periods of time.
5. Affectionate
The Istrian Short-Haired Hound temperament is usually affectionate with her owner or trainer, though some individuals may be less so. It is less likely to show affection to other humans.
6. Energetic
As a hunting breed, the Istrian needs a lot of exercise. If she doesn't get it, you will have to deal with some negative Istrian Short-Haired Hound behaviors.
7. Strong Prey Drive
The Istrian Short-Haired Hound temperament is not suited to homes with small animal pets. It may be hard (if not impossible) to train her not to chase them.
As a breed, they are unreliable with other dogs. Some will do well, but others may not.
8. Vocal
This breed is known for its deep, booming voice. On the job, she barks nonstop as she tracks her prey. It's an instinctive part of her hunting nature that may be hard to train out of her.
This dog can bark a lot when she's anxious or uncertain. She's not a good choice for homes with nearby neighbors.
She will bark to alert to strangers, but again, she is not aggressive. She is most likely be wary or aloof toward them.
Istrian Short-Haired Hound History
The Istrian Short-Haired Hound originated in the peninsula of Istria. Until 1947, Istria was part of Italy, but 90% of it now belongs to Croatia.
This breed has an ancient heritage. It was depicted in frescoes in a 13th century chapel in Beram in central Istria. Many historians consider it to be the oldest hound in that part of the world.
It is believed that the Istrian's ancestors were ancient Phoenician sighthounds and various European scenthounds.
The Istrian Short-Haired Hound Temperament is as popular in her homeland as she ever was. She is still used there to hunt hare and fox.
The Istrian Short-Haired Hound breed was recognized by the Federation Cynologique Internationale (FCI) in 1949 and by the United Kennel Club (UKC) in 2006.
This is a rare breed that's hard to find outside of Europe.
Istrian Short-Haired Hound Training
This dog was born to hunt. She is intelligent and quick to learn. Though she's generally eager to please, she has an independent streak too.
In the field, she eagerly follows commands.
Some say that she makes a good family companion, but again, not everyone agrees.
At home, she may not deliberately disobey, but the hunt will always be her first priority. If she catches an interesting scent, she will simply not hear you (or choose not to).
The Istrian Short-Haired Hound needs firm, consistent training. She will quickly become the boss if you allow it.
She needs a trainer who can find the right balance between firm, no-nonsense training and gentle, positive reinforcement methods.
This breed is not a good choice for an inexperienced dog owner.
This breed also needs early socialization to strangers, children, and other dogs.
Helpful Dog Training Resource:
For help with training your Istrian Short-Haired Hound dog, you should take a look at The Online Dog Trainer by Doggy Dan. Doggy Dan is an expert Dog Trainer based in New Zealand. His online resource contains Hundreds of Excellent Dog Training Videos that will take you step-by-step through the process of developing a healthy, happy well-behaved dog.
Istrian Short-Haired Hound Appearance
General Appearance
The Istrian Short-Haired Hound is a medium-sized dog with a noble look. She has a supple body with a slightly rectangular shape.
She has a glossy coat that is short and fine. Istrian Short-Haired Hound color can be all white or white with lemon/fawn patches or ticking.
Her head is long and narrow, and her skull is rounded. She has a broad, fairly deep chest with straight front legs and slightly angled back legs.
Her ears are the typical hound's ears, dropped, medium-sized, and folded. Her eyes are black or brown. She has a long muzzle and a scissors bite.
She has a slender, tapering tail that is set high. It curls upward slightly.
Istrian Short-Haired Hound Size
The average Istrian Short-Haired Hound height is 18 to 20 inches for males and 17 to 19 inches for females.
Istrian Short-Haired Hound weight averages 35 to 40 pounds. There is no weight difference between males and females.
Istrian Short-Haired Hound Must-Knows
Istrian Short-Haired Hound Lifespan
The life expectancy of this breed is 12 to 15 years.
Other Names
Istarski Kratkodlaki Gonič.
Istrian Short-Haired Hound Dog.
Short-Haired Hound.
Istrian Smooth-Coated Hound.
Short-Haired Istrian Hound.
Istrian Setter.
Don't confuse this dog with the Istrian Coarse-Haired Hound. They come from the same region, but they are separate breeds. The Short-Haired is a bit smaller than the Coarse-Haired breed.
Hunting with an Istrian Short-Haired Hound
Despite the sighthound in its lineage, this breed is a scenthound and an extraordinary one at that. She's prized for the stamina that allows her to cover vast distances.
She is also a versatile hunter who hunts individually or in packs, on or off leash. She is also very skilled at tracking wounded game.
The Istrian Short-Haired Hound is not particularly fast on her feet. But she is excellent at tracking prey through dense brush and rough, sometimes-inaccessible terrain.
She has a loud, booming voice that allows the hunters to follow her when they can't see her in the vegetation. She barks constantly while she is on the trail.
This breed works as a hunter of fox and hare today just as she has for hundreds of years. Hunters feel she's beautiful to watch at work, with a smooth, effortless gait and joy in her work.
Istrian Short-Haired Hound Health Issues
The Istrian is a healthy breed with no breed-specific health conditions. As with most hunting or working breeds, though, she is prone to hip dysplasia.
Like most hound breeds, she also is susceptible to ear infections.
Helpful Dog Health Resource:
Important Note: Few things are more important than our Health. It's no different with our Dogs Health. Some visits (and Money) to your vet can be avoided if only you know what to do when your dog is ill. The Ultimate Guide to Dog Health is the answer. No dog owner should be without this handy guide. It's no substitute for your vet but it will Save you Money and Heartache. This Dog Health Guide will help you quickly understand and recognize symptoms before they become a serious problem for your dog. Click Here to see if you agree.
Caring for the Istrian Short-Haired Hound
Istrian Short-Haired Hound Grooming
This breed is fairly low-maintenance. Her coat needs brushing once or twice a week to keep it clean and glossy. She is an average shedder.
She should not be bathed unless it's absolutely necessary.
Her ears need to be checked and cleaned regularly. Of course, her nails need trimming routinely, and she needs her teeth brushed regularly as well.
Istrian Short-Haired Hound Diet
This is a very active breed. You may want to feed her a high-performance food formulated for working dogs. If she's hunting, she will need plenty of protein and fat in her diet.
You will want to keep an eye on her weight, though, to be sure is not getting too many calories.
If she's less active, she should do well on any high-quality commercial diet.
Istrian Short-Haired Hound Exercise
The Istrian Short-Haired is moderately active. Though she is a nearly tireless hunter, she is also able to relax and be calm when she's off the field.
Still, her exercise need is greater than most non-hunting dogs. She needs 30 to 45 minutes of vigorous exercise a day.
This dog will treat you to nuisance behaviors if she doesn't get enough. She may bark incessantly and can be destructive.
This breed is not suited for apartment living. She needs a large area to run and play.
Like most intelligent hunting breeds, she also needs mental stimulation. If she is not hunted often, she will need an activity to take its place. Hunting trials or nose work would be good outlets for her energy.
This is an athletic breed who can also be trained in canine sports such as rally, flyball, or agility. If she can't be hunting, this would be an acceptable substitute. But hunting is by far the best way to keep an Istrian Short-Haired Hound busy and happy.
Finding an Istrian Short-Haired Hound
Buying an Istrian Short-Haired Hound from a Breeder
If you are a hunter who would like to find an Istrian Short-Haired Hound for sale, you will need patience.
At the time of this writing, we were unable to find any Istrian Short-Haired Hound breeders in North America.
However, we did find a few groups on Facebook for Istrian and/or Croatian hound rescues. This would be a good place to make connections with other Istrian dog owners. They may be able to help you find breeders of Istrian Short-Haired Hound puppies.
More than likely, you would need to look to Europe to find an Istrian Short-Haired Hound puppy. You could start at Eurobreeder.com. You may find a breeder who will ship to North America.
Vetting Breeders
If you are lucky enough to find a breeder, be cautious. You will want to research them carefully to be sure you aren't buying your puppy from a puppy mill or backyard breeder.
If you do, you may be getting an unhealthy, poorly adjusted puppy.
These unethical breeders often keep their dogs in heartbreaking conditions. They don't care about the health of the parents or the puppies, only about making money.
These people overbreed the mothers, one litter after another until they wear out. They breed with no thought to the genetic health of future generations.
They even inbreed, which creates new health issues for the breed.
A reputable breeder will allow site visits. Even if you aren't able to make a visit, ask if they're allowed. If the answer is no, find another breeder.
A responsible breeder will have health information on its puppies. They will often have this information going back two or more generations. They will guarantee the health of their puppies.
A good breeder will also have questions for you. They want to be sure they are placing their pups in homes that are a good fit.
They will also expect you to return your dog to them if you ever need to surrender it.
Istrian Short-Haired Hound Rescue/Adoption
You are unlikely to find this breed at your local shelter. However, you may have an easier time finding an Istrian Short-Haired Hound for adoption than for sale. That is if you're willing to accept an adult dog.
As above, there are several rescues with an online presence that works with this breed. Search for Facebook groups and online forums.
YouTube is also a good place to look. Many dog owners and breeders post videos of their dogs. Some will include contact information.
By adopting an adult dog, you will be providing a loving home to a dog who needs one. But it has other benefits as well.
With an adult dog, you won't have the sleepless nights of puppy training. Someone else will have already done that for you.
An adult dog from a shelter or rescue will be neutered. It will probably be housebroken, and it will likely have at least basic obedience training.
Adopting is also much less expensive than buying a puppy. Our best estimate of Istrian Short-Haired Hound price through a breeder is $900 plus shipping.
Shelters and rescues generally charge from $75 to $300 for a healthy adult dog.
Is the Istrian Short-Haired Hound the Right Breed for You?
If you're looking for a family pet, there are much better choices available. This dog can be stubborn and may or may not do well with children.
But if you are a serious hunter who wants an excellent scenthound that will be devoted to you, the Istrian Short-Haired Hound temperament could be a great fit.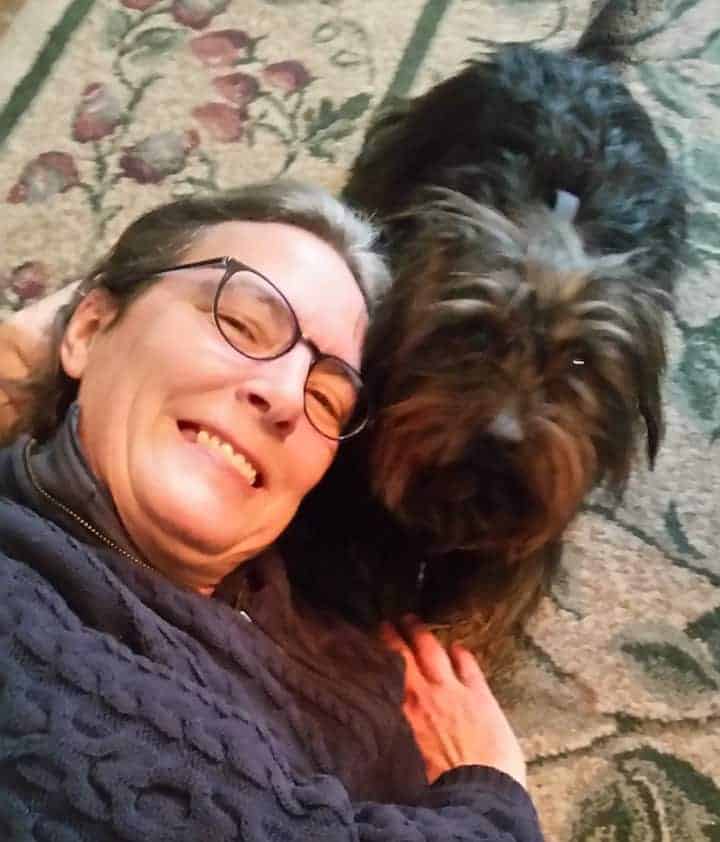 Paula is an experienced writer who loves dogs and had many of them through the years. Her family always had large dogs—Border Collies, Labs, and Golden Retrievers. When her beloved Golden died of cancer, she decided to practice what she preached and do some research before choosing her next breed. She now shares this knowledge with thousands of dogtemperament.com readers worldwide.