Because the Cock-a-Chon is a deliberately designed, hybrid Cocker Spaniel, it's no wonder this Bichon Frise Cocker Spaniel Mix temperament is so likable.
However, the Cock-a-Chon is very different from most other Bichon Frise mixes out there.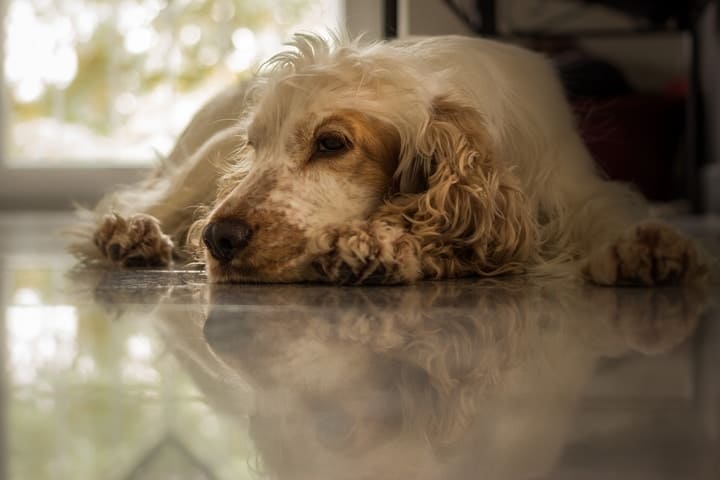 This is because most designer breeders create their mixed breeds using dogs with similar temperaments. The Cocker Spaniel and the Bichon Frise, however, are two very different breeds.
Read on to learn more about what you can expect from the temperament of a Cock-a-Chon.
Bichon Frise Cocker Spaniel Mix Temperament and Personality
While definitely different, the good news is that the Bichon Frise Cocker Spaniel Mix temperament has something for everyone.
All told, this breed is a fantastic choice if you're looking for a well-rounded dog for the whole family.
She's Trainable
The Cock-a-Chon learns quickly, so you can teach her a variety of tricks while she's young that will impress for years.
She's eager to please you, which certainly helps when you're trying to teach her what will make you happy – like tricks and more important things, like potty-training.
She's Brilliant
The Cock-a-Chon's intelligence is a large part of why she is so easy to train.
However, it can also be her downfall.
If you don't provide her with enough mental stimulation, she will get bored. And boredom often leads to separation anxiety.
An anxious dog will engage in destructive behaviors, partly because they're desperate for something to do, and partly out of spite that you left.
Types of Destructive Behavior
Separation anxiety can lead to such behaviors as excessive barking, destructive chewing, or digging.
If your schedule calls you away from home for a good chunk of the day, you may want to consider a different breed.
However, if someone is usually home but something rare comes up, you can ask your vet about which anti-anxiety medication you can give her.
Of course, you don't want to depend on medication to be able to have a dog. This is only for those rare instances where you know someone won't be home for several hours.
She's Great for First-Time Dog Owners
If you've never owned a dog before and are looking to become a Doggy Parent, then the Cock-a-Chon is a great first start!
She's not high maintenance, and she's a sweetheart, so she's a relatively easygoing little dog.
There's a reason her nickname is "Baby-Doll Face." Her face matches her personality!
She Could Be a Great Hunter
The Cock-a-Chon is a strange little duck because it all depends which parent she takes after.
She could grow up to be a skilled hunter or a comfy lapdog. It truly is a crapshoot.
However, if you are looking for a hunting companion, you should probably get to know the dog of your choice before committing to buying her. She may just prefer to watch TV in your lap!
Just be careful before bringing her home if you have already have small animals as pets. If she's got the hunter streak in her, she may treat those other animals like prey.
It's the strangest thing to watch, because another Cock-a-Chon may be more Bichon than Cocker Spaniel and might not bother your small pets at all. Every Cock-a-Chon is different.
She gets along with other dogs, though, so you never have to worry about doggie aggression with her.
She's a Great Apartment Dog
If you live in an apartment, the Cock-a-Chon will do quite well.
She's quiet, provided she does not develop separation anxiety, and she's polite. Both of these things are definite pluses when you live within such close confines with your neighbors.
The Cock-a-Chon Appearance
The Cock-a-Chon is definitely what you would consider to be on the smaller side for a dog.
Cock-a-Chon Weight and Height
An adult Cock-a-Chon's maximum height is between 11 and 16 inches tall, depending on the parent she takes after.
A healthy maximum weight for an adult Cock-a-Chon can be anywhere from 12 to 24 lbs., again depending on her genetic traits.
Cock-a-Chon Colors
The Cock-a-Chon coat comes in a ton of colors but tends to stay on the lighter end of the spectrum.
Normal Cock-a-Chon colors are combinations of black with brown, white, or tan; plain black; plain white; brown and white, or plain brown.
Is the Cock-a-Chon Hypoallergenic?
The Cock-a-Chon barely sheds at all, so you can definitely say she is hypoallergenic.
What is the Cock-a-Chon Life Expectancy?
You can expect a healthy Bichon Frise Cocker Spaniel Mix to live between 11 and 14 years.
This is an average life expectancy for a dog of this size.
A Brief History of the Bichon Frise Cocker Spaniel Mix Breed
To know the Cock-a-Chon is to learn a little more about the parents who made her.
The Bichon Frise descended from the Italian Water Spaniel. This is the same ancestor who later spawned the Poodle and Maltese breeds we know today.
Sailors often used Bichon Frises as items of trade because these companionable little dogs were in such high demand.
Cocker Spaniels, on the other hand, are also great companions but in an entirely different way.
Cocker Spaniels have been assisting hunters even before the gun came into being.
So, it's no surprise today why a blend between these two breeds would be such a great family companion.
How Do You Train a Bichon Frise Cocker Spaniel Mix?
You should have zero problems training the Cock-a-Chon.
As mentioned earlier, she loves to please, and she's very smart.
Because of this, you can even teach her more advanced tricks that other breeds experience difficulty with.
The Cock-a-Chon's strong desire to please you also means she loves being the center of attention, so of course she'll do whatever you ask of her!
One thing you do need to do, especially if your dog takes after her Cocker Spaniel parent, is leash-train her. Do this early on so that she understands that chasing after small prey is not something you will tolerate.
Helpful Dog Training Resource:
How Do You Groom a Bichon Frise Cocker Spaniel Mix?
It can't all be fun and games though, can it? That's why grooming is quite possibly the most tiresome part of owning a Cock-a-Chon.
You must incorporate a professional groomer every 2 or 3 months to properly bathe and trim her.
And even though the groomer will give her a proper brushing, you should still be brushing her regularly to prevent tangles and mats.
Check and clean her ears with ear cleaner frequently to prevent ear infections, and brush her teeth 2 or 3 times a week.
Staying Healthy
There aren't too many health concerns to worry about with the Cock-a-Chon, but it's still good to be on your guard.
Take your pup to the vet if you suspect any of the following conditions:
Helpful Dog Health Resource:
Important Note:
Few things are more important than our Health. It's no different with our Dogs Health.
Some visits (and money) to your vet can be avoided
if only you know what to do when your dog is ill.
The Ultimate Guide to Dog Health is the answer
. No dog owner should be without this handy guide. It's no substitute for your vet but
it will Save you Money and Heartache.
This Dog Health Guide will help you quickly understand and recognize symptoms before they become a serious problem for your dog.
Click Here to see if you agree.
Exercise
Sure, the Cock-a-Chon requires a fair amount of exercise, but it's nothing too crazy.
A daily brisk walk or play session lasting around 30 minutes or so is enough to keep her satisfied.
Don't skip her playtime, as this keeps her fit mentally as well as physically. A tired-out dog is a happy dog – even happier still when she does these things with her master.
Finding the Perfect Bichon Frise Cocker Spaniel Mix
You may experience difficulty finding a Bichon Frise Cocker Spaniel Mix for sale. You have to be so careful when dealing with designer dog breeders.
Mainly, you need to be sure before you agree to a Bichon Frise Cocker Spaniel Mix sale that the dog is First-Generation. This is super important, as you don't want a dog who is suffering issues from inbreeding.
Bichon Frise Cocker Spaniel Mix Puppies for Sale
The Bichon Frise Cocker Spaniel Mix price tag is pretty affordable, especially for a designer dog.
The price of a Cock-a-Chon can range from $400 to $800.
There are a number of reasons why this price can vary from breeder to breeder, including the stock of the dog.
Bichon Frise Cocker Spaniel Mix Adoption and Rescue
If you're considering a Bichon Frise Cocker Spaniel Mix for adoption, this is a great idea.
However, the shelter may not have any when you go to look.
You can always try a different local shelter in your area, or ask your local shelter to put your name on their list to call when one comes in.
You can also try looking into rescue organizations who specialize in homing only Cock-a-Chons.
Bichon Frise Cocker Spaniel Mix Breeders
One of the best things you can do when looking for a Cock-a-Chon to buy is to meet with the breeder in person.
Never buy a dog sight unseen. Even if the dog is in a different state from you, if you can't make the accommodations to visit the premises, then look elsewhere.
Breeders who don't care or want to meet with you first have something to hide.
If they don't ask you any questions about yourself, this is a red flag, too. Why wouldn't they want to know where their pups are going?
These are all signs that the breeder is in it for the money, and money only. Who knows what kind of dog you could end up bringing home?
Checkout our Complete Guide to Breeders:
More Bichon Frise Mix-breeds
If you did not find what you looking for maybe our article on the Top Bichon Frise Mix will answer your question. Or you can check out each Bichon mix directly by clicking on the links below: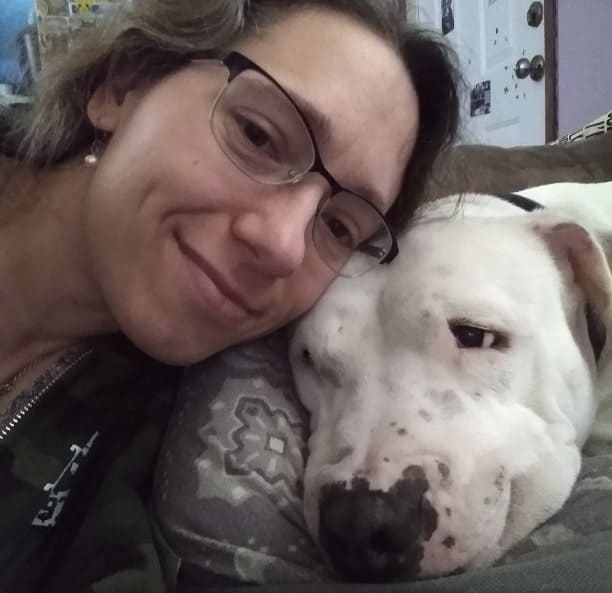 Kailyn has worked as a professional freelance writer since 2012, and during that time she has written about nearly every dog breed imaginable. Her mother loved Collies, and so Kailyn grew up with three of them throughout her childhood – including a blonde one who was half-blind! Now her home belongs to her first official dog, Macho, a Dogo Argentino rescue.